80 Comments
[DISCLOSURE: Cards from our partners are mentioned below.]
Every year, many people file their taxes expecting a refund … only to discover the money's been taken to pay off their student loan debt. The bad news: The government can take that money if your federal student loans are in default. The better news: You can contest the seizure. And, if it was taken in error, you should be able to get your refund back. If it wasn't an error, well, it can be very, very difficult to get those dollars released. However, we have heard anecdotally from readers who contacted the Education Department, demonstrated hardship and had at least part of their refund returned. The process appears to take awhile — and, again, there's no guarantee Uncle Sam will comply — but it is an option someone can pursue if money is particularly tight.
Now, let's delve a little deeper into why refunds get withheld — and what you can do if yours was one of them. (Psst: We'll also provide some tips of what to do about those delinquent student loans.)
Why Was My Tax Refund Taken?
If you are in default on your federal student loans (which by definition means you are behind by 270 days or more), the Education Department can take your tax refund using the Treasury Offset Program. This program authorizes federal payments such as tax refunds or Social Security income to be intercepted in whole or in part to pay debts owed to other federal agencies. There are some limited consumer protections, but debtors aren't always aware of them.
What Can You Do if Your Refund Was Seized?
We spoke with Jay Fleischman, a student loan and bankruptcy attorney, about what people can do. First, he said that by federal law, people who have student loans in default get a notice that they are at risk of having any potential tax refund seized for student loan repayment. That notice contains instructions for a review of your loan information and how to avoid the offset —so, in other words, if your student loans are in default and tax season is coming up, be sure to watch your mail.
If your refund is taken and you don't believe it should have been, you can contest the offset by contacting the Education Department. If it was taken in error, the money will be refunded. However, be aware that an error does not generally include not getting a notice; it typically would require that you be able to prove your student loan was not in default.
As we mentioned earlier, if you were in default, you probably can't get your refund back. The one case in which you are likely to be able to recover the money is if you filed jointly with a spouse, and it was his or her student loan that was in default.
"You may be able to make an injured spouse claim," said Fleischman.
How Can I Keep a Tax Refund From Being Taken for Student Loan Debt?
Fleischman said it's a good idea to adjust your withholdings whether you're subject to a tax refund offset of not. A large tax refund means you overpaid your taxes during the year, he notes. If you are in default on your federal student loans you probably need that money. But at this point, there is nothing you can do to change the over-withholding from last year. Still, revisiting how much you're having withheld for taxes is a smart move for anyone who got a large refund.
The bigger problem is how you are going to deal with the default on your student loans from now on. You'll want to get out of default and stay that way. (Here's an explainer on how to deal with student loan default.) In some cases, you may be able to get an income-based repayment plan in which your monthly payment can be set as low as $0. Another option is to refinance if you're able to do so to see if you can get a lower interest rate.  And "if your circumstances are dire and expected to remain so," bankruptcy and the discharge of student loans might be options, Fleischman said. (Yes, that can be done.)
For most, what is done is done. The best thing you can do is to look ahead. And if you haven't filed your tax return and expect a large refund, you may want to see what options you have to get out of default first. Being in default on a student loan can not only squeeze your budget, it can hurt your credit and cost you thousands of dollars in higher debt costs over a lifetime. You can get two of your credit scores for free on Credit.com to track your standing.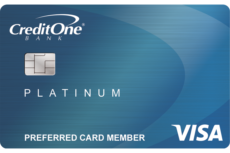 Credit One Bank® Visa® with Free Credit Score Tracking
Card Details
---
Ongoing Apr:
25.74% Variable
---
---
---
Credit Needed:
Excellent-Good-Fair
Snapshot of Card Features
Qualified applicants will receive exclusive benefits such as 1% cash back rewards on all purchases, no annual fee, and a competitive APR. Terms apply.
Manage your account quickly and easily from your mobile device by using the Credit One Bank mobile app.
Use your Apple device to make purchases securely through Apple Pay®. Apple Pay is a registered trademark of Apple, Inc.
Your account is safeguarded against unauthorized charges with Zero Fraud Liability at no additional charge.
Take advantage of free online access to your Experian credit score and credit report summary so you can track the key factors impacting your credit health. Terms apply.
Card Details +
Got a question about your student loans? We want to help. Ask away in the comments section below and one of our experts will try to get back to you. In the meantime, visit our student loan learning center for more info.  
This article has been updated. It originally ran on March 9, 2015.
Image: iStock