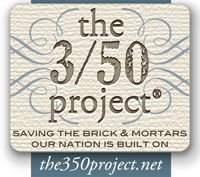 Local retailers and small business owners are being especially hard hit in this economic downturn. When times are tight, people naturally reduce spending and eating out in their communities.
Luckily, there's someone standing up for the shop around the corner. The 3/50 Project is encouraging people to "Pick Three. Spend $50. Save your local economy." Here are the details:
3
– What three independently owned businesses would you miss if they disappeared? Stop in. Say hello. Pick up something that brings a smile. Your purchases are what keeps those businesses around.
50 – If half of the employed population spent $50 each month in locally owned independent businesses, it would generate more than $42.6 billion in revenue. Imagine the positive impact if 75 percent of the employed population did that.
68 – For every $100 spent in locally owned independent stores, $68 returns to the community through taxes, payroll, and other expenditures. If you spend that in a national chain, only $43 stays here.
1 – The number of people it takes to start the trend.
You can learn more about the 3/50 Project online here. Remember: This is the time to "spend smart." You might consider investing money locally in a way that will benefit your home (hire a handyman, carpet cleaner, painter, gardener); your family (go to a local museum or zoo, schedule an appointment with a financial planner); or your career (sign up for a class, go to a networking event, buy a new suit).
What about you? Will you be picking three and spending $50 this weekend?
Emily Peters
–
Credit.com
's personal finance expert and former TransUnion credit bureau insider. Emily writes about
credit reports
,
credit cards
,
loans
, and personal finance as CreditBloggers.com's editor.